Theme parks can be rather intimidating places, especially for first-time visitors. The joy and excitement of the experience can often be washed away simply because guests are not sure what to do or where to go, and the result can be a dampened day that is not as memorable as it could have and should have been.
The goal of these theme park guides is to offer advice on how to spend the day at a theme park as well as enlighten readers to the nature and environment of these parks. They should not be depended on blindly. Rather, these guides are designed to supplement existing knowledge and provide a few tips that may or may not have been revealed before. We are not responsible for any negative experiences related to any suggestions from these guides.
Choose a theme park from its geographical division below. The map shows which states each section contains. Expect to see mostly parks from the United States first, as international theme parks will be added after the site expands.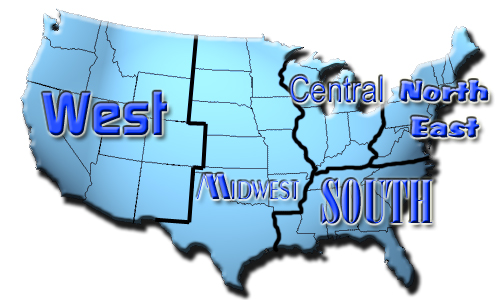 PARKS IN THE WEST
Adventure Dome
Bofante Gardens
Enchanted Village
Legoland California
Paramount's Great America
Sea World San Diego
Six Flags Elitch Gardens
Six Flags Marine World
Universal Studios Hollywood
PARKS IN THE MIDWEST
Sea World San Antonio
Six Flags AstroWorld
Six Flags Fiesta Texas
Six Flags over Texas
Valleyfair
PARKS IN THE CENTRAL
Cedar Point
Paramount's Kings Island
Six Flags Great America
Six Flags Kentucky Kingdom
Six Flags Worlds of Adventure
PARKS IN THE NORTHEAST
Hersheypark
Kennywood Park
Knobles Grove
Lake Compounce
Paramount's Kings Dominion
Six Flags America
Six Flags Darien Lake
Six Flags Great Adventure
Six Flags New England
PARKS IN THE SOUTH
Sea World Orlando
Six Flags over Georgia
Universal Islands of Adventure
Universal Studios Florida
Walt Disney World - Animal Kingdom
Walt Disney World - EPCOT
Walt Disney World - Magic Kingdom
Walt Disney World - MGM Studios
PARKS IN CANADA
Paramount Canada's Wonderland
Marine Land
PARKS IN EUROPE
Alton Towers
Blackpool Pleasure Beach
Disneyland Paris
Heide Park
Six Flags Belgium
Six Flags Holland
Thorpe Park
Universal Port Aventura
Warner Bros Movie World (Madrid, Spain)
PARKS IN ASIA
Disneyland Tokyo
Tokyo DisneySea
Layout & Site Copyright 2002 Roller Coaster Central
Site first created on June 8, 2000 :: Ver 2.0 Implemented August 23, 2002